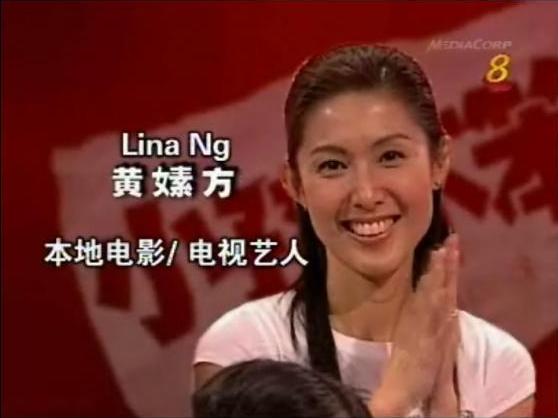 姓名: 黄嫊方
国籍: 新加坡
生日: 6 May
生肖: 虎
血型: O+
星座: 金牛座
身高: 164 cm
体重: 48 kg
专长: 唱歌,演戏,主持
语言: 华语,英语
嗜好: 烹饪
兴趣: 看电影
幸运数字: 10
座右铭: To be happy and positive
最满意自己的地方: 眼睛
最喜欢的颜色: 绿,灰
最喜欢的动物: 马,老鹰
最喜欢的食物: 螃蟹,牛肉
自己的优点: 乐观
曾去过的国家: 香港,马来西亚,中国,越南,泰国
最崇拜的人物: 父母
最大的心愿: 演一场音乐剧
Lina shot to fame with the popular variety programme City Beat, along with fellow hyper-happy team-mate Bryan Wong. She went on to star in a slew of Chinese shows including Price of Peace, Teochew Family and the sitcom Right Frequency.
After she became a mother, she made the decision to devote her time to caring for her two sons — and other people's as well. She's currently a full-time pre-school teacher, doing a bit of acting and hosting when she can afford the time.
Lina has acted in 2 of Jack Neo's movie "Just Follow Law" and "One More Chance! She was also the female lead in a VCD movie "The Vietnamese Bride!
Lina Ng was a spokesperson for Lumiere International (beauty salon) and presently she is also in an advertisement for ecreative.com.sg which is a pastry business. Despite not offered to go over to Mediacorp, Lina is determined not to let her talents go to waste. She is under J team now. She collaborated with Hong Kong TVB on the show "Yummy Yummy".
Her credentials include her coming in first-runner up for Star Search 1993 and winning the Top 5 Most Popular Female Artiste in 1996 and was nominated for Best Actress Award in 1998 for her outstanding role in "Living in Geylang" when she was with Mediacorp. She was later hand-picked by Mr Man to cross over to start a new TV station - Mediaworks. She hosted in numerous variety shows and acted in sitcoms like "Ok, No Problem" and even in English in "Ah Gal". Her best performance came when she was the lead actress in drama "Perfect Women".
Commercials Involved

1. Kodak TVC
2. Maid Agency Print Ads
3. Singtel TVC
4. M1 TVC
5. Lumiere Slimming Print Ads
VCD Movies
1. The Vietnamese Bride
Drama Involved

1. recently is Perfect Cut II & more...
Varieties Involved
1. City Beat
2. Happy Rules
3. City Slickers & more...
Movies Involved
1. One More Chance
2. Just Follow Law
Awards Received

1. 1996 "Top 10 Most Popular Artistes"
2. Runners Up
3. Miss New Magazine 1992
4. Teenage Centrefold Girl of the Year 1990
Links

fansite (Lina-Ng.webs.com)
facebook group (groups.to/Lina-Ng)
yahoo group (movies.groups.yahoo.com/group/Lina_Ng)
friendster fanpage (friendster.com/HuangSuFang)
videos (youtube.com/HuangSuFang)